WUSB 2017 - Martigny, Švica (Schweiz) - svetovna razstava za bernardince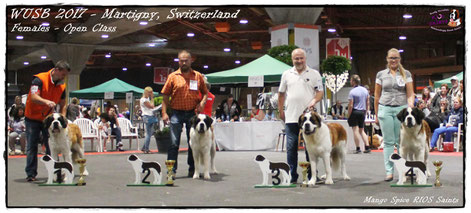 Junija je v Švici potekala svetovna razstava za bernardince, na kateri je bilo 271 bernardincev. Razstava je potekala na 4 ringih, v katerih sta sodila po 2 sodnika iz različnih držav. Naši psi so, ob zelo močni konkurenci, dosegli zavidljive rezultate ter vsi dobili zelo lepe opise in oceno 'odlično':
Ninetou Nayati (Intermediate class) - 3. mesto
Mango Spice (Open class) - 4.mesto
Mojito (Open class) - 5.mesto
Magic Crystal (Champion class) - 7.mesto
Zelo sem ponosna na svoje pse in svoje delo. 
We were at WUSB in Martgny (Swiss) and our dogs got excellent results, with great descriptions and high placed results in strong classes of over than 20 dogs. We are very porud of our breedig. 
Wir waren bei WUSB - Martigny, Schweiz und unsere Hunde war sehr gut präsentiert, alle haben Excellent Bewertung bekommen mit sehr gute 'plasierung' in klassen die war mehr als 20 Hunde. Wir sind ganz stolz! 
Moj Ximen - najlepši pes Zasavja 2016/My Ximen - Best dog of Zasavje 2016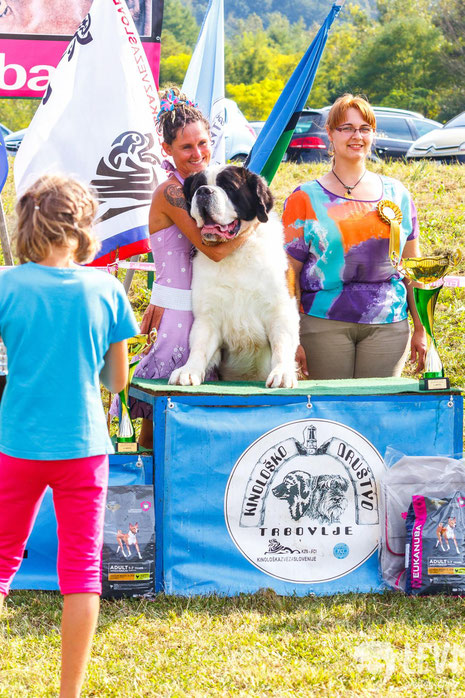 CAC TRBOVLJE
Bernegarden's Ximen postal najlepši pes Zasavja 2016
Mi v medijih - RIOS dogs in media
Naša mala lepotička Crystal priporoča, da svojega psa zavarujete pri Zavarovalnici Triglav!
Sweet Crystal recommending where to insure your dog - commercial for Insurance Company.
Unsere süße Crystal - Werbung für Hunde-Versicherung.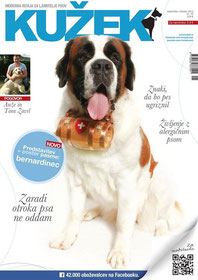 Juwel na naslovnici revije Kužek, kjer smo predstavili pasmo bernardinec. V reviji so izključno slike le naših psov.
Juwel on a magazine cover. Introducing our beloved breed with fotos of our dogs.
Juwel im Magazine. Rassen Präsentation mit Fotos von unsere Bernhardiner.
Klubska razstava SKVPM - Dog show for Moloss & Giant breeds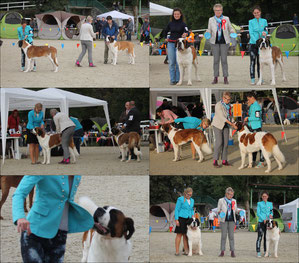 Bili smo na klubski razstavi SKVPM in domov sem pripeljala dva klubska prvaka in eno mladinsko klubsko prvakinjo!
We were at Club Show for Molosser and Giant breeds where all my dogs won first places ant titles of Club Winner and Junior Club winner!
Bei die Ausstellung für Molosser haben alle drei erste Platz gewinnt und so sind Juwel und Ximen Clunb Sieger für 2015 und Crystal Jugend Clubsiegerin!
Svetovna razstava psov v Milanu/World dog Show in Milano - Italy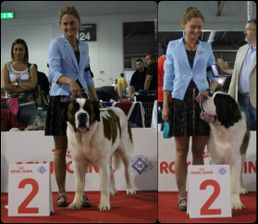 Na specialni razstavi pod okriljem svetovne razstave v Milanu sta Juwel in Ximen osvojila 2.mesto!
Poleti smo bili tudi na Tirolskem, kjer je mala Crystal postala Avstrijska klubska prvakinja, Ximen je prav tako osvojil 1.mesto, Juwel je bila druga. 
At the special show under the auspices of the World Exhibition in Milan Juwel and Ximen won 2nd place!
Later in Summer, we were also in Tyrol, where the small Crystal became Austrian Club Champion, Ximen also won 1st place, Juwel was the second.
Auf der Sonderschau bei Weltausstellung in Mailan haben Juwel und Ximen 2.Platzm gemacht!
Sommer Ferien  in Tirol und Ausstellungen - wo die kleine Crystal wurde Jugend-Klubsiegerin, 1.Platz für Ximen und 2.Platz für Juwel.
CACIB Umag - Hrvaška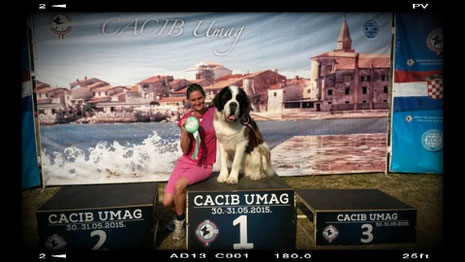 Ximen je oba dneva osvojil naziv BOB (Best of breed) in s tem postal Hravški prvak v lepoti. V nedeljo je bil tudi izbran med 5 najlepših psov v FCI 2 skupini.
Ximen has both days won the title BOB (Best of breed) and thus became Croatian beauty champion. On Sunday was also shortlisted between top 5 dogs of FCI 2 Group.

Ximen hat an beiden Tagen den Titel BOB (Best of Breed) gewonnen und wurde so Kroatischer Champion. Am Sonntag war auch zwischen den Top-5-Hunde der FCI-Gruppe 2 in Ehrenring ausgewahlt.
Ebersdorf - Nemčija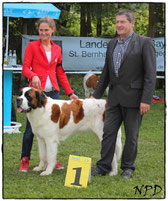 Na specialni razstavi bernardincev v Nemčiji je Juwel osvojila 1. mesto, Ximen 2. mesto. 
At the special show for Saint Bernards in Germany Juwel won 1st place,  Ximen was 2nd.

Auf der Sonderausstellung für Bernhardiner in Deutschland Juwel gewann den 1. Platz, Ximen 2. Platz.

CACIB Varaždin - Hrvaška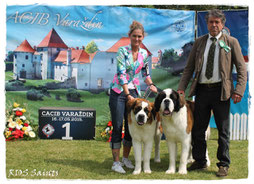 Ximen in Crystal sta osvojila 1. mesti v svojem razredu in v glavnem ringu izbrana med 5 najlepših psov vseh pasem.

Ximen and Crystal have won the first places in their class and were shortlisted in BIS between 5 most beautiful dogs of all breeds.

Ximen und Crystal haben die ersten Plätze ihrer Klasse gewonnen und wurden in Ehrenring zwischen 5 schönsten Hunde von aller Rassen ausgewahlt. 

Specialna klubska razstava v Bijeljini (BiH) - Club Show for Saint Bernards in Bijeljina (BiH)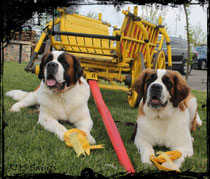 Na specialni razstavi za bernardince v BiH smo osvojili 3 prva mesta, Ximen pa je postal tudi mladinski klubski prvak BiH. 
At the special show for Saint Bernards in BiH we won 3 first places, Ximen also became the Junior Club Champion BiH.

Auf der Sonderausstellung für Bernhardiner in BiH haben wir 3 erste Plätze gewonnen, Ximen wurde auch Jugend Club Champion BiH.

IHA Salzburg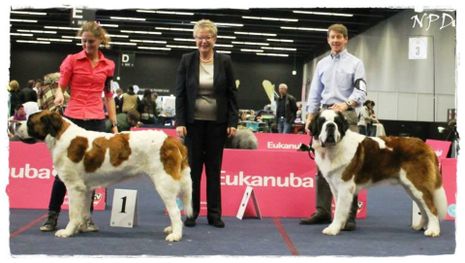 Bolj za šalo, kot zares sva odšli z Juwel na razstavo v Salzburg, kjer smo imeli snidenje s prijatelji... Nazaj sva se vrnili z lepim uspehom - dobila je poseben naziv najlepša psica in najlepša prestavnica pasme.
We've visited IHA Salzburg more because of fun, since Juwel has done everything in Austria already. And we came back with nice thopheys and titles - best bitch and best of breed!
Mit Juwel bin ich nach Salzbulg gefahren... Mehr zum Spass und um Freunde zu treffen, da Juwel schon alle Titel hat. Sie hat dort den besonderen Titel 'Beste Hündin' bekomen und war auch rassenbester Hund.
IHA Graz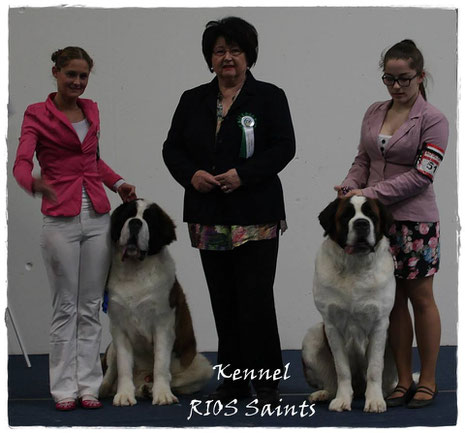 Na mednarodni razstavi v Grazu sta bila Juwel in Ximen najlepša med dolgodlakimi bernardinci, BOB je dobil 'mali' Ximen. 
Juwel je z izpolnjenimi pogoji postala avstrijska prvakinja, Ximen pa mladinski avstrijski prvak, ter bil v BIS ringu med najlepšimi mladimi psi izbran med top 5. 
At international dog show in Graz Juwel and Ximen were best rough female and male. Ximen also got BOB.
Juwel got her last title to fulfill the Austrian Champion, Ximen has become Junior Austrian Champion and got shortlisted in BIS ring between top 5 dogs. 
Bei der IHA Graz waren Juwel und Ximen beste langhaarige Hunde. Der Richter hat BOB für Xmen gegeben.
Mit diesem Erfolg sind beide Champions geworden - Juwel Österreichischer Champion und Ximen Jugend Österreichischer Champion.  Im Ehrenring waar er auch unten den top 5 Hunden.
CACIB Celje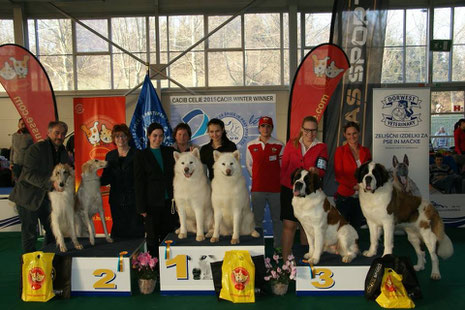 Na mednarodni razstavi v Celju je bila Juwel v soboto in nedeljo najlepša psica in dobila poseben naziv 'zimski zmagovalec', postala slovenski šampion ter tudi mednardna pravakinja v lepoti. Ximen je bil oba dneva izbran za najlepšega predstavnika pasme in osvojil naziv 'mladinski zimski zmagovalec' ter hkrati postal mladinski šampion Slovenije. V BIS ringu pa je prišel v ožji izbor. 
Tokrat smo prvič tekmovali tudi v parih in zasedli 3. mesto!!!

Ekipi Moj pes se najlepše zahvaljujemo za posredovano fotografijo. 
At the CACIB Celje was Juwel on Saturday and Sunday best female and got a special title of 'Winter Winner', became Slovenian champion, as well has fulfilled the conditions to become International beauty Champion. Ximen has been selected both days as BOB , won the title of ''Junior Winter Winner" and also became Youth Champion of Slovenia. He was also shortlisted in BIS ring.
For the first time we competed in pairs and took 3rd place!!!
Bei der IHA Celje war Juwel am Samstag und Sonntag beste Hündin und bekam den besonderen Titel "Winter Winner",  auch Slowenischer Champion, sowie Internationale Champion. Ximen war an beide Tagen Rassenbester, bekommen beseondern Titel "Junior Winter Winner" und ist Slowenischer Jugend Champion geworden.  Im Ehrenring war  er unten den top 7 Hunden. 
Unser erstes Mal in der Paarklasse - 3. Platz!!!